Events
---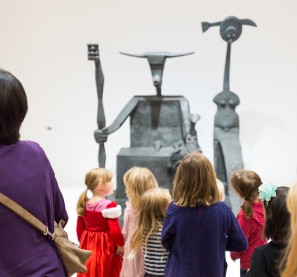 The museum as an event location
Max Ernst used to dance in the "Brühler Pavillon", which is now home to the Max Ernst Museum Brühl des LVR. It used to be a popular destination for outings and social gatherings along the railroad between Cologne and Bonn. Today, its attractive exhibitions and events still make it a public meeting point.
The Dorothea Tanning Hall, a highly versatile event location often used by the City of Brühl, is the perfect place for any kind of occasion or event: from conferences of all sorts to receptions, banquets, and company anniversaries, all the way to lectures, cabaret shows, theater performances and concerts. On about 400 square meters, the room has a stage with modern light and sound equipment and seats up to 340 guests depending on the arrangement. The foyer outside the Dorothea Tanning Hall, the gallery in the mezzanine, and the expansive plateau around the museum building can also be used for events.
When the Hall is not in use by the museum for events surrounding its exhibitions, it can be rented out. Smaller seminars and conferences can also be held at the nearby Max Ernst Birth House and the adjoining Fantasy Lab.
---