Biography
---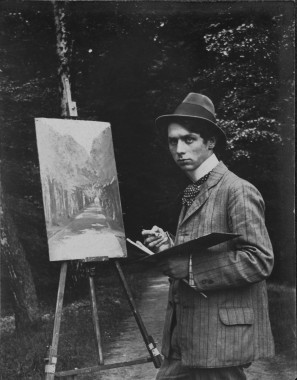 The young Max Ernst at the easel
Biography
1891
Max Ernst is born on April 2nd at Schlossstraße 21 in Brühl. His father, Philipp Ernst, teaches him how to paint early on.
1913
During his studies in ancient philology at Bonn University, he contributes to the exhibition of expressionist art from the region (Rheinische Expressionisten).
1914-1918
During World War I, he is deployed at both the western and eastern fronts. Shortly before the end of the war, he marries the art historian Luise Straus.
1919
He starts the Cologne Dadaist movement together with Hans Arp and J. T. Baargeld.
1920
His only son, Ulrich (Jimmy) Ernst, is born.
1921
First exhibition in Paris.
1922
He moves to Paris and stays with the poet Paul Éluard and his wife Gala.
1925
Max Ernst delves into frottage techniques and publishes his Histoire naturelle with 34 works a year later.
1927
Marie-Berthe Aurenche becomes his second wife.
1929
His first collage novel La femme 100 têtes is published.
1935
First plaster sculptures created by molding everyday objects.
1939-1940
After the beginning of World War II, Max Ernst is repeatedly sent to French internment camps as an "enemy national"; in Germany, his work is classified as "degenerate art".
1941
He emigrates to the United States in July. In December, art collector Peggy Guggenheim becomes his third wife.
1946
Together with his fourth wife, Dorothea Tanning, he moves to Sedona, Arizona.
1951
In honor of his 60th birthday, the largest Max Ernst retrospective to date is shown at Augustusburg Castle in Brühl.
1953
Max Ernst returns to France together with Dorothea Tanning.
1954
He is awarded the Grand Prize for Painting at the Venice Biennale, which launches his international success and prompts major retrospectives and numerous awards.
1971
He visits his home town to attend the unveiling of his fountain outside what is now Brühl's city hall and the first ever award ceremony of the Max Ernst Scholarship.
1972
The University of Bonn awards him an honorary doctorate.
1976
On April 1st, one day before his 85th birthday, Max Ernst dies in Paris.
---