---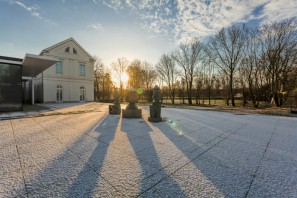 Photo: LVR-Zentrum für Medien und Bildung / Dominik Schmitz
Download
Welcome to the press service area, where you can download copyright-protected image material in print quality. Please use all images provided for download only in the context of current reporting on the Max Ernst Museum Brühl of the LVR and follow the instructions for use when publishing.
Please note that some press photos are saved in a password-protected area due to their rights requirements. The photo material is free of charge in the context of current reporting. We would be pleased to receive a reference copy for our media review.
---
Exhibition »Surreal Futures«
Exhibition from August 27, 2023 until January 28, 2024
The project, with contributions from nineteen countries, brings the currentness of Surrealism to life in interactive video works, virtual and augmented reality artworks, hybrid installations, digital collages and multimedia performances.

Memo Akten | David Alabo | Aya | Tim Berresheim | Tega Brain, Julian Oliver, Bengt Sjölén | Viktor Brim | Imran Channa | Louisa Clement | Paul Duncombe | Jake Elwes | Justine Emard | Cao Fei | Cyprien Gaillard | Alexandra Daisy Ginsberg & Sascha Pohflepp | Katherine Melançon | Kasia Molga | Michael Namingha | Isadora Neves Marques | Michela Pelusio | Sabrina Ratté | Johanna Reich | Tabita Rezaire | Louis-Philippe Rondeau | Doug Rosman | Maxime Rossi | Camilo Sandoval | Tristan Schulze | Transmoderna | Theo Triantafyllidis | Jessi Ujazi | Pinar Yoldaş
---
COLLECTION
The Max Ernst Museum Brühl des LVR is the only museum dedicated to the life and work of the seminal artist, image poet, and cosmopolitan Max Ernst (1891–1976). The collection spans 70 years of one of the most important, versatile, and fascinating artists of the 20th century. Numerous paintings, drawings, frottages, and collages let visitors immerse themselves in the fantastic worlds of Max Ernst's images and demonstrate his boundless inventiveness. Visitors can also look forward to seeing a unique collection of more than 70 bronze castings and sculptures. Another heart piece of the collection are the 36 "D-paintings".These works were originally painted as gifts to the artist's fourth wife, Dorothea Tanning – a fellow artist who was a part of his life for more than three decades.
NOTES ON THE USE OF PRESS IMAGES FOR THE PERMANENT COLLECTION
Please take note of the image details and photo credits when publishing. We would be pleased to receive a reference copy for our media review.

---