---
---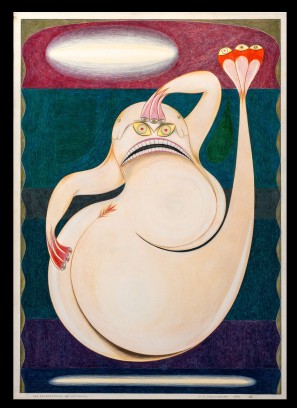 Friedrich Schröder-Sonnenstern, Der Zauberfrosch hat Lichtblick (The Magic Frog has a Glimpse of Light), 1955, coloured pencils on cardboard, Sammlung Kraft, Köln © VG Bild-Kunst, Bonn 2021, Photo: Jürgen Vogel für Max Ernst Museum Brühl des LVR
Events of the temporary exhibition
PUBLIC TOURS
Saturdays | 3:30 p.m.
Sundays | 11:30 a.m. and 3 p.m.

The public guided tour offers an overview of the temporary exhibition "Surrealistic Creatures"
Duration: 1 hour | 5 €, reduced rate 3 € (plus admission fee)
Meeting Point Foyer, max. 12 participants

TOURS FOR FAMILIES
Third Sunday of each month | 2 p.m.
Duration: 30 minutes | adults 2.50 €, reduced rate 1.50 € (plus admission fee), children 1.50 € (free admission)
---
---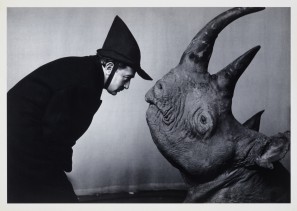 Philippe Halsman, Salvador Dalí with rhinoceros, 1956, Photography, © Heinz Joachim Kummer-Stiftung Köln, Photo: Jürgen Vogel for Max Ernst Museum Brühl des LVR
Guided Tour with the Curator: Breton's Animal Lives
Friday, 15 Oct. 2021 | 4:30–5:30 p.m.
The exhibition shows the variety and diversity of Surrealism. The visual art and literary movement that emerged in the early 1920s can therefore not be characterised by formal stylistic characteristics - like Impressionism, Expressionism or Cubism. Dr Jürgen Pech, the curator of the exhibition, explains with the help of selected works which aspects and methods had a significant influence on Surrealism.

max. 12 participants

5 € per person, reduced rate 3 € (plus admission fee)
Registration required three days in advance (by 12 Oct, 2021)
---
---
Jean Benoît, Le bouledogue de Maldoror (The Bulldog of Maldoror), Detail, 1965, wood, leather, mirror, glass, bottle glass and metal, © Pinault Collection, Paris, Photo: Michel Monteaux
Reading with Actress and »Tatort«-Inspector Anna Schudt and Actor Moritz Führmann
Music: Anikó Kanthak
Surreal/Animal
Saturday, 6 Nov. 2021 | 7:30 p.m.
In their search for the unconscious, the Surrealists created fantastical, sometimes scary and monstrous creatures, who worked their mischief in Surrealist texts.
For the reading, these Surrealistic fantasies will be vividly performed in all of their ruthlessness and accompanied by music from the voice of Anikó Kanthak.
Ticket 1: Exhibition visit (6 p.m.) and reading 29 € adults, reduced rate 24 €

Ticket 2: Reading 20 € adults, reduced rate 16 €
The Special New Year's Concert: Dialogo animal "talking horns"
Sunday, 9 Jan. 2022 | 11 a.m.–12:30 p.m.
The »talking horns« tell entertaining stories from the past, present and future with their instruments (tuba, trombone, saxophone and bass clarinet). They delve into the musical world of surreal beasts and even produce some of their own.
Tickets: Exhibition visit with concert 19 € adults, reduced rate 16 €; children and teens up to age 18 cost 8 €. Drinks not included.
---
---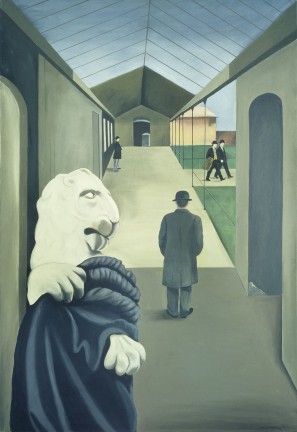 Conroy Maddox, Passage de l'Opéra, 1970/71, Oil on Canvas, Tate Gallery, Foto: ©Tate
TICKETS
in the Online-Shop
INFO-SERVICE | RESERVATION | BOOKING
kulturinfo rheinland, T +49 (0)2234 9921-555
---