---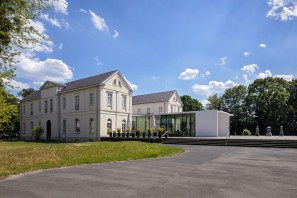 Max Ernst Museum Brühl des LVR. Photo: Annette Hiller
Exhibition of the Luise-Straus-Preis of the LVR and the Max Ernst Grant of the City of Brühl
Exhibition from May 14 until July 9, 2023
The works of the new Luise-Straus-Preis winner, Isabell Kamp, can be seen from 14 May to 9 July 2023, together with selected works of the current prize-winner of the Max Ernst Grant of the City of Brühl, the Cologne artist Fabian Friese, in an exhibition in the Max Ernst Museum Brühl des LVR.

Further information will follow soon.
---
---
David Alabo, Lust, 2019, Digital collage, Courtesy of the artist
SURREAL FUTURES
Exhibition from August 27, 2023 until January 28, 2024
Our times are defined by the effects of globalisation and digitalisation, by the climate crisis, by a contention with colonial structures and increasing diversity. Against this background, Surreal Futures gathers around 30 international positions from the fields of digital and media art that look at the urgent questions of the 21st century.
In an examination of Surrealism and Max Ernst, contemporary tendencies are presented in the sense of a new form of "SurRealism": an art that dreams itself beyond reality, which reflects changes in our lived-in world and visualises speculative future scenarios.
The project, with contributions from seventeen countries, brings the currentness of Surrealism to life in interactive video works, virtual and augmented reality artworks, hybrid installations, digital collages and multimedia performances. Contemporary works will also be increasingly shown next to the works of Max Ernst within the collection for the first time. This creates a dialogue between Max Ernst and contemporary artists in light of current questions.
Subject to change!
---